All boat reservations should be made two weeks in advance. Cancellations accepted up to 72 hours prior to rental period. No charge for standard life jackets. Sorry, no pets on rentals. Deposit required on all boat reservations. All day rental on fishing boats is from sunrise to dusk during peak season (June through August). Prices subject to change without notice. Please contact us for current pricing. All boats are the price of rental, gas charged at fair market rates. 
*Boat stalls are $10.00 per day.

Fishing Boats Equipped with Trolling Motors
Bass Boat – 40 HP motor
4 hours – $105.00
8 hours – $150.00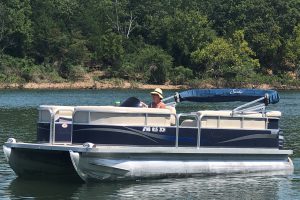 12 Passenger Pontoon Boat
4 hours- $175.00
8 hours- $300.oo
Trace Hollow Resort would love for you to come and stay with us!